Amber Munig
Big Game Management Program Supervisor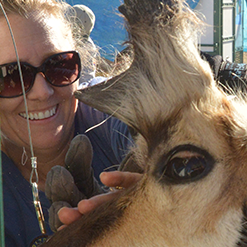 Amber enjoys operating the department's big game management program so she can support and empower staff working to conserve Arizona's wildlife. Her days include working on species management, wildlife projects, population data and efforts with conservation partners.
"I'm also able to get out to participate in population surveys, wildlife captures and habitat work," she says.
Amber has worked with Arizona Game and Fish since 1989 when she started as an intern. Today her role includes management of all 10 big game species and predatory and fur-bearing species across the state. "I have always been interested in nature and what makes it tick. I love spending time outdoors hunting, hiking and camping with my family."
As a scuba diver since the late 1980s, Amber is a mega-outdoors enthusiast. She's traveled for dive trips to Bonaire and Fiji and also loves the kelp forests off California's shores. "Underwater wildlife is amazing," she says.
Seeing her work benefit department projects is Amber's favorite part of the job. For many years she managed the department's harvest and population survey datasets, which are key to managing for sustainable wildlife populations. Large projects have included coordinating the capture and quarantine of elk for reintroduction in West Virginia, and helping restore native wildlife such as pronghorn and bighorn sheep to their historical habitat. Amber and her team work together to ensure wildlife are here for future generations.
Some of her favorite memories from work include a time she traversed most of the state evaluating habitat suitability for pronghorn. "I loved being out in the middle of nowhere, experiencing the new areas with no one around then dropping the tailgate for a homemade sandwich," Amber says. "Or after a long day of hiking and having sore feet, I would come across a creek. Soaking your feet in cool water is an amazing way to end the day. Arizona has some amazing hidden pockets."
People are surprised when she shares information about her profession and that she's also a hunter. "Hunters were the first wildlife conservationists," Amber says. "If not for them, we wouldn't have many of the species we have today."
"On the day of big game captures, I watch the animals leap from the trailer into their new home, I remember why I'm a wildlife biologist and I smile."