Cristina Jones
Turtles Project Coordinator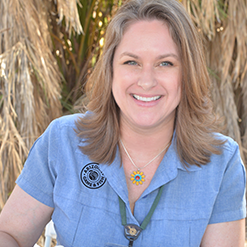 An Arizona native, Cristina has been working for the Arizona Game and Fish Department since 2006. She coordinates the interagency management of eight native turtle species and conducts field research on multiple projects that include surveying and monitoring tortoises, conducting nonnative turtle removal, and leading interagency workgroups to identify and implement conservation actions for turtles.
Growing up with a father who worked for the U.S. Fish and Wildlife Service, nature was Cristina's "classroom." Every chance they'd get, her family went on hiking and camping adventures.
Cristina's passion for amphibians and reptiles began with a love for snakes. When she found her first desert tortoise, her world completely opened up. "Then my father showed me a Gila monster, and I was completely blown away," she says.
While attending the University of Arizona she finally found her professional calling at the School of Natural Resources. Under the valued guidance of wildlife conservationists Todd Esque and Cecil Schwalbe and through networking at the university, she worked on projects that benefited Gila monsters, snakes, and eventually desert tortoises. She's been working to conserve turtles ever since!
If you've ever attended one of Cristina's collaborative group meetings, you already know her secret weapon to encourage attendance and long-standing partnerships. "In addition to having a reputation of completing tasks, I love to bake and bring brownies, cookies, or cupcakes to share with groups, and to thank volunteers for their dedication to turtle projects," she says. "Sharing food is a great icebreaker. It also makes people feel welcome and most importantly, valued."
Because a turtles project coordinator position is not common to each state, Cristina focuses on creating a path for others interested in a herpetology career. She mentors interns and is writing courses so those who share her love for amphibians and reptiles can also be a part of "the lives of these wonderful animals."
When asked what she would like Arizona residents and visitors to know about the state's wildlife, Cristina says, "Keep wild turtles wild and keep captive turtles captive. Leave them where you find them."
Regardless of whether she's working out in the field or in the office, she is satisfied that progress is being made with each task she completes. "Every phone call and every meeting are direct efforts that have a positive effect on conservation," Cristina says. "Nature is wondrous and worthy of study."