Dennis Abbate
Research Biologist – Wildlife Specialist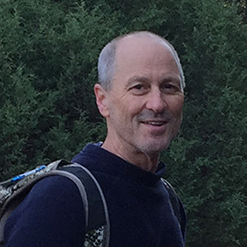 Dennis' work for Arizona Game and Fish Department has taken him all over the state and given him the opportunity to work with a wide variety of plant and non-game animal species.
Interestingly, Dennis originally set his sights on a career in the mental health field and spent a number of years making an impact in this area. But his lifelong love of the outdoors tugged at his heart, and he returned to school to pursue wildlife biology. "I was fortunate to have a partner that encouraged me to pursue what I really loved," he explained, "and she supported my return to school and the journey to an outdoor career and wildlife biology."
He began his AZGFD career as a seasonal Wildlife Assistant working on field survey projects for Sonoran tiger salamanders and cactus ferruginous pygmy-owls, before moving into research.
Though focused on work with owls and other raptor species that included surveys, trapping, banding and radio-tracking, Dennis expanded his field work to include other non-game species including flat-tailed horned lizards, Tucson shovel-nosed snakes and Kit foxes.
During the field season, a typical work day for Dennis begins long before sunrise, sometimes getting up at 2:00am to be on the work site setting, check traps or hike to an observation point before the temperature is too hot. Other days are just the opposite—arriving at the work site during the heat of the day. "For example, during the late breeding season for burrowing owls, we took advantage of the extreme temperatures that pushed the owls inside their burrows which allowed us to set box traps at the burrow entrance," he explains. "And then we waited until the owls attempted to re-emerge when temperatures were cooler later in the day, increasing our capture success."
If you ask about his work experience, Dennis will tell you that his work with the Department has allowed him to make a small contribution to the conservation of wildlife and their habitat, and has given him the rare opportunity to witness secretive wildlife behavior and wondrous wild places that most people (even with the Department) have not experienced. "One of the most interesting and enjoyable things among many that I have seen in the field," he recalls, "is a peregrine falcon's capture, delivery and feeding of prey to its young at a cliff nest site."
Dennis continues to work as a field biologist on a host of projects including surveys for the endangered Acuña cactus, invasive plant control, raptor surveys and burrowing owl monitoring.