Pilar Wolters
Wildlife Specialist - Research Branch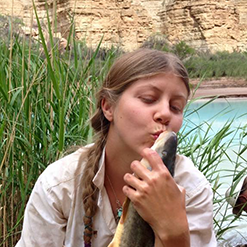 As a Wildlife Specialist in the research department, Pilar spends her days getting up close and personal with Arizona's fish species, monitoring fish populations from Glen Canyon Dam to Lake Mead in the Colorado River. On any given day, you may find her using hoop nets out in the field or tucked back in the office helping to process and analyze the data collected. She also leads research projects that involve razorback suckers, flannelmouth suckers and their hybrids.
Pilar didn't start out in fisheries. In fact, she had her heart set on becoming a wildlife manager until a fisheries internship in 2008 showed her where her true passion really lay. Her job comes with a lot of freedom and responsibility, but she loves the hands-on aspect and the fact that she gets to work in some of the most beautiful places in the state. "My favorite part of my job is that I get to work in the Grand Canyon, and I have the freedom to come up with new questions to research and actually carry out the research," she says excitedly.
Pilar's seen a lot of interesting changes in Arizona's fish since she began working with the Department, but one particular change really stands out because it speaks to one of Arizona Game and Fish's big goals—restoring native species. "The most interesting thing I've observed in the field is watching the fish community in Grand Canyon shift from a nonnative dominated fish community to a native fish community within recent years," she explains.
She's not alone in her passion for seeing Arizona's wildlife thrive. "All of the Department's employees are dedicated and passionate about managing today for wildlife tomorrow for all wildlife users."
Learn More About Pilar